TechSpot is celebrating its 25th anniversary. TechSpot means tech analysis and advice
you can trust
.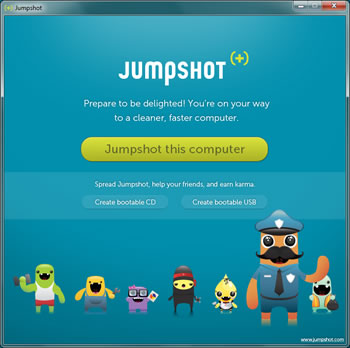 Tired of being your family's volunteer tech support hotline? A new Kickstarter project could lift some of the burden off your shoulders by making it stupidly easy for inexperienced PC users to perform common maintenance and repairs.
Described as a "fully automated solution for solving PC frustration," Jumpshot can eradicate bloatware, viruses and other nasties, optimize software security and performance, analyze a storage drive and delete unwanted data, examine hardware to detect failing parts, identify unsecure Wi-Fi connections, measure Internet bandwidth and more.
The goal is to make things as hands-off as possible. There's nothing to install or uninstall. The software runs in a custom Linux environment outside Windows and although you can boot into it manually, the creators tout a "patent-pending" solution that makes a one-time modification to Windows' bootloader allowing a machine to enter Jumpshot upon rebooting without touching the BIOS.
From there, Jumpshot loads the necessary drivers, connects to the Internet for an engine update and starts working its voodoo. It could be a misunderstanding, but a diagram on Kickstarter seems to suggest the Linux environment will include a Web browser to keep you occupied during the cleaning. Once the process is complete, the application offers an easy-to-follow report and reboots into Windows.
The creators aren't sure how to sell the final product, as the software can run from the Web or off local media, making various distribution methods possible. They want your feedback on how to charge for Jumpshot as a service. For now, if you pledge enough, you'll get an early access download as well as a preconfigured novelty USB drive such as Sir Jeffrey, who dons a monocle and a top hat, Officer Pete and a ninja named Kobayashi. Other characters and their roles are listed on Kickstarter and some of them are being used as pledge rewards on shirts, stickers and tattoos.
As of writing, 209 backers have pledged $11,316, covering nearly half of the project's $25,000 goal with 58 days to go. Pledging $5 gets you the aforementioned stickers and tattoos, $25 adds a t-shirt, $30 gets you an 8GB USB drive of your choosing and early access to the software before the device ships, and $50 upgrades you to a 32GB drive. Spend $10,000 and you'll get five of each 32GB USB stick (15 sticks), five of each shirt (10 shirts), your own Jumpshot character, top credit on the company's site and a night on the town with the founders if you're near Austin, Texas.
If the project is successful, the developers have various ideas for new features, depending on what customers want:
Rate my setup: How does your hardware stack up to the average? How about your network speed? Would you like a suggestion on a small hardware upgrade that could go a long way?
Software updates: Locating the proper updates can be a pain and typically require multiple reboots. We can handle this automatically during sedation (i.e. upgrading browser plugins, Window patches, etc.).
Network insights: What devices are on your network? Is your neighbor on your WiFi? Want us to automatically tune your WiFi router for maximum performance?
Social network protection: Privacy policies change regularly on Facebook, etc. and can be confusing. Want us to manage this for you?