Hands-on with Sling TV: A solid live TV experience for cord-cutters that includes sports
By Shawn Knight 7 comments
TechSpot is celebrating its 25th anniversary. TechSpot means tech analysis and advice
you can trust
.
As the recipient of no less than a dozen awards, Sling TV was without a doubt one of the hottest products to emerge at this year's Consumer Electronics Show. For the uninitiated, Sling TV is a subsidiary of Dish Network that'll soon deliver over-the-top (OTT) live television to a plethora of Internet-connected devices.
The service is designed to target cord-cutters and cord-nevers by offering an assortment of live television channels to complement content from the likes of Amazon, Netflix and Hulu as well as free over-the-air programming.
Although it shares the Sling name with Sling Media's line of Slingboxes, Sling TV is a separate brand and a separate product.
What Sling TV Offers
Sling TV's pitch is pretty straightforward. For $20 per month, you get access to 12 channels: ESPN, ESPN2, TNT, TBS, Food Network, HGTV, Travel Channel, Adult Swim, Cartoon Network, Disney Channel, ABC Family and CNN. At the general market launch (expected within the next two weeks), customers will also have access to ESPN's WatchESPN app at no additional cost.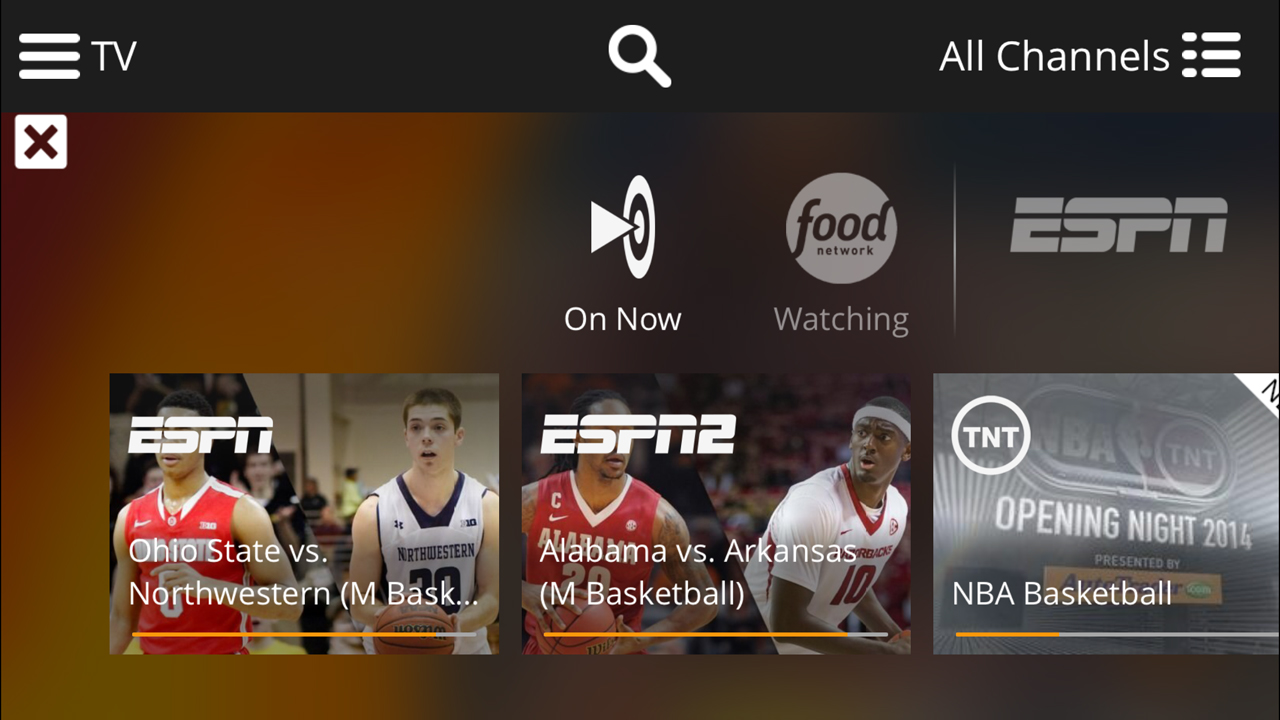 Sling TV also offers two add-on packs at $5 extra each month. The Kids Extra includes Disney Junior, Disney XD, Boomerang, Baby TV and Duck TV, while the News & Info Extra adds HLN, Cooking Channel, DIY and Bloomberg.
All of this is in addition to a collection of Video-On-Demand (VOD) titles, but more on that in a bit.
Supported devices include Amazon Fire TV and TV Stick, Google Nexus Player, Roku players and Streaming Stick, Smart TVs from LG and Samsung, Roku-equipped TVs and Xbox One. Customers can also tune in on mobile devices running Android and iOS as well as on the PC and Mac.
Unlike many cable and satellite providers, Sling TV is offered with no commitment, contract, credit check or hardware installation; subscribers are free to cancel online at any time.
Setting It Up
Getting started with Sling TV will vary slightly depending on what device you are using. I tested the service using my iPhone and a Roku 3.
For iOS, I simply needed to download and install the Sling TV app, launch it and log in with my credentials. With Roku, I had to add the Sling TV channel to my Roku 3 before logging in. Neither method took more than a minute or two. Similarly, the user interface you encounter will also vary slightly from device to device but regardless of platform, everything seemed incredibly intuitive and well thought out.
Given the pre-release status of Sling TV, there was no web-based version for me to put through the paces.
iOS
Using my iPhone 6 Plus to evaluate the iOS experience, it's worth noting that the app works in both landscape and portrait modes, though I can't imagine what kind of person would consume media vertically – perhaps the same people that record vertical videos?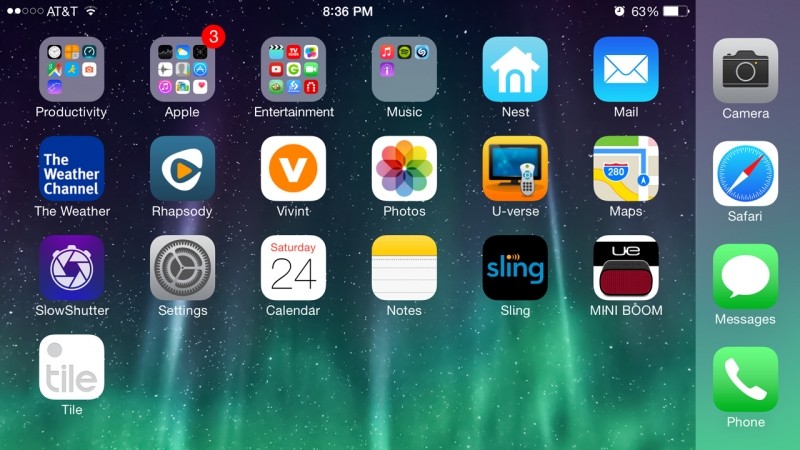 I'll use the starting point of already watching a show as the basis for my walkthrough.
Tap anywhere on the screen to bring up the main menu. From here, you get basic DVR-style controls along the bottom that allow you to jump ahead, pause or rewind the action - that is, if the broadcaster permits it. Only a handful of stations - DIY, Food Network, Cooking Channel, Bloomberg, HGTV, Travel Channel, Baby TV and Duck TV - allow such control.
That said, Sling TV doesn't offer recording or scheduling features consistent with a true DVR. What you do get (on the channels that allow action control) is the ability to watch shows that have aired within the past three days. Also, if you want to watch a show that's already in progress, you have the option of starting over from the beginning.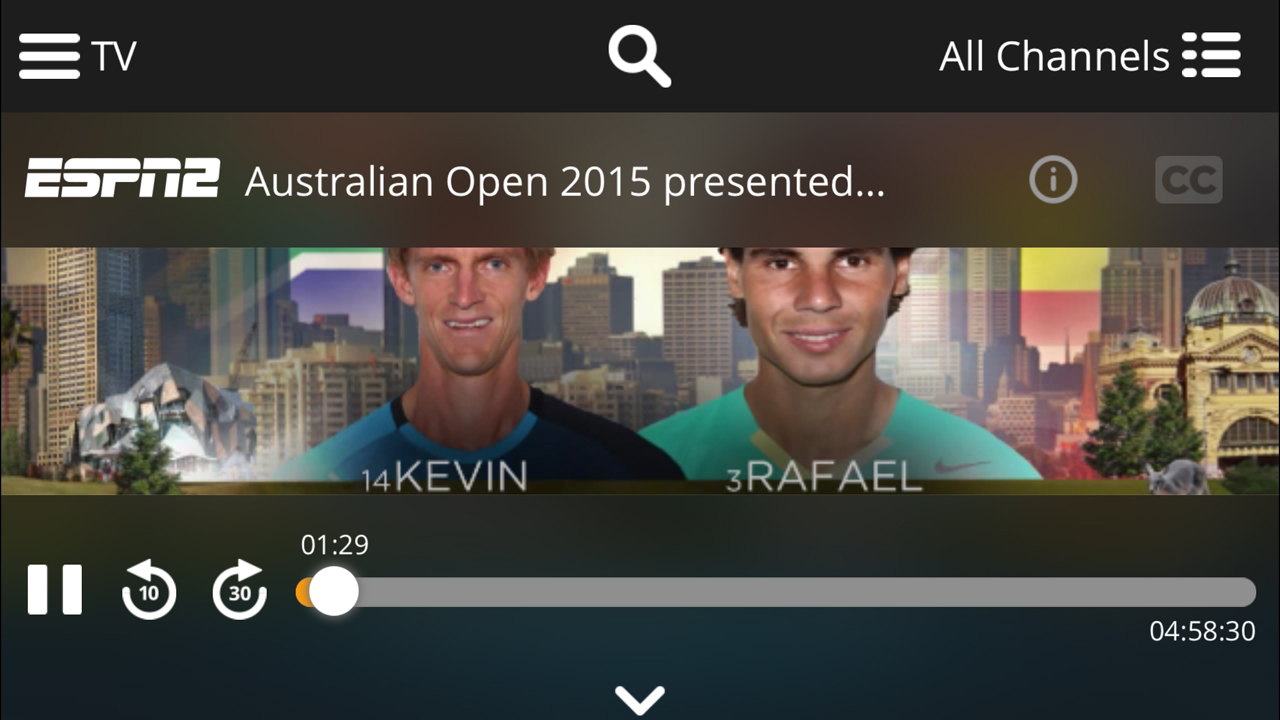 The channel selection screen is split into two sections where you can browse what's on right now or browse by channel to see what's on, what's scheduled to air on a particular station and on select channels, the previously aired content that I just mentioned.
Within the app, under the movies section, you'll find a cornucopia of both new and older flicks organized into basic categories you'd expect. The collections category narrows things down even further, for example, into movies featuring car chases, holiday-themed flicks and even those with masked killers.
When using Sling TV on the iPhone, I was unable to rent movies directly. A prompt instructed me to go to DishWorld on a web browser to get the film in question then come back and watch it on the phone. I reached out to Sling TV and was told that at this time, renting movies over iOS isn't possible. What you can do, however, is rent them on Android or Roku 3 then come back and watch them on iOS. It's unclear if this will be remedied over time.
Roku 3
The true test for most with Sling TV will be how it performs on a television in the living room. For the most part, the UI with the Roku 3 was very similar to that of iOS. Instead of touch controls, however, you simply use the Roku remote control to get around by way of the back button, OK button, directional pad and the * button to get to the main menu.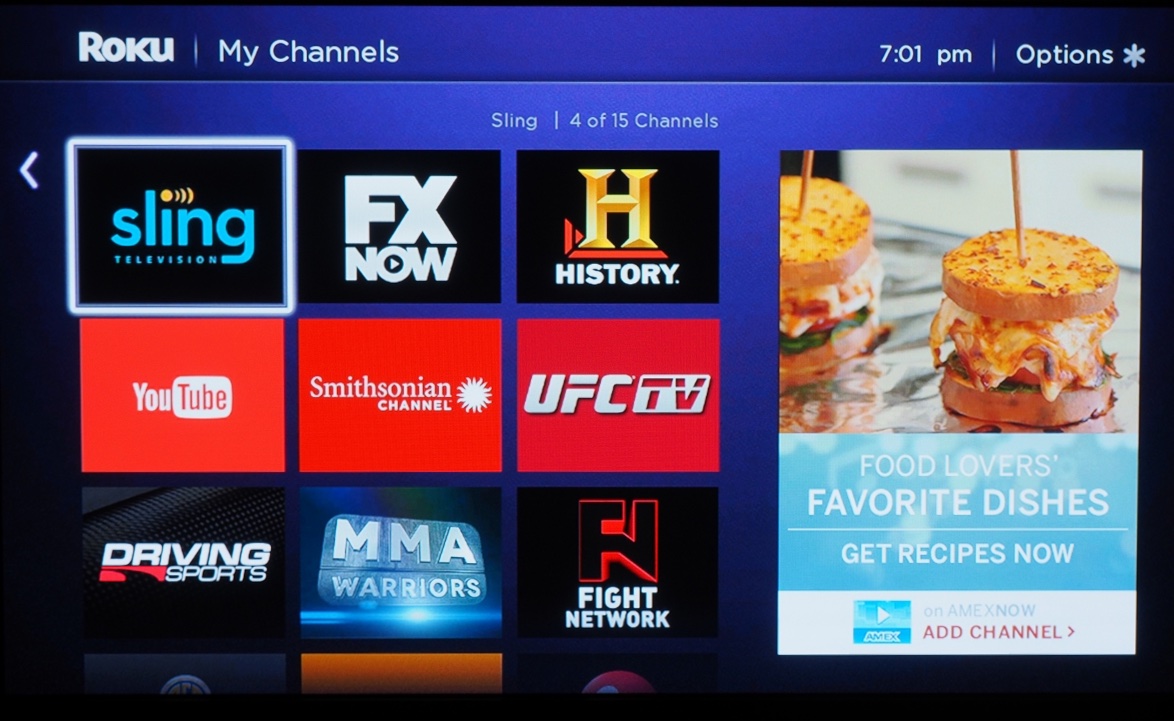 Instead of the side-loading menus, the main menu appears at the bottom of the screen. You still get the same options - just presented in a slightly different way. Also as mentioned earlier, you can rent movies on the Roku without hassle.
I rented a few movies over the weekend. The process was as smooth as you'd expect; the price of the rental is billed to your credit card on file and the movie starts right away. As is typical, you have 24 hours to complete a movie from the time you begin watching with full control over pause, rewind and fast-forward options.
Impressions
My overall experience with Sling TV was pleasant. As an early adopter, you may experience the occasional hiccup as I did. For example, on Saturday evening during an extended testing session, I was unable to tune into HGTV, Travel Channel and Duck TV. When trying to watch, I'd simply get a "Buffering" or "Catching Up" prompt that never went away. This remedied itself by the following day.
Image quality in both the iOS app and when using the Roku 3 was great. On more than one occasion, my girlfriend thought we were watching cable. If you're worried about image quality, don't be. So long as you have a decent web connection, you'll be fine. Performance was equally impressive whether using a wired or wireless connection. On your mobile device, you'll want to make sure Wi-Fi is selected as you'd otherwise eat through a metered data plan rather quickly.
Unlike some other streaming media offerings, Sling TV only allows for a single connection at any given time. When asked if a family plan was in the works, I was told there was nothing to share at this time.
I also want to point out that ESPN does have some device restrictions. Specifically, because of a deal between the NFL and ESPN, it doesn't appear as though you can watch certain NFL content on a mobile phone. This restriction won't affect viewing on a Roku 3 or tablet, fortunately.
When compared with a "live" stream from my cable provider (AT&T Uverse), I found that most programming was roughly two minutes behind "live" time. The delay on ESPN and ESPN 2 was around one minute, give or take a few seconds.
I was told that as a new service, Sling TV has opted to be conservative in their signal delay to allow for congestion or other potential propagation delays that can occur between the signal source and the viewer. This delay will be significantly reduced over time as the rollout gets under way.
Availability
Sling TV will be available to the first batch of people that pre-registered for the service starting January 27. The invites will continue to roll out until the general market launch which is expected within the next two weeks. Note that you can pre-register up until the market launch date. At the general market launch, interested parties will be able to choose from a one-week free trial.
I've been told that Sling TV will continue to improve upon the customer experience in a few different ways. The first is through a partnership with Maker Studios. At the general market launch, Sling TV will include the "best of online video" from Maker Studios. Subscribers will have access to exclusive programming in addition to some of the top video content from around the web.
Sling TV's VOD catalog will also expand. Every channel will soon include more VOD titles. This of course means more options to watch on your own schedule.
There's also a Sports Extra add-on in the works that'll include "more of your favorite ESPN networks" although details on exactly which channels will be included aren't yet known.
Wrap Up
Sling TV is the first legitimate service to deliver live sports programming over the Internet without requiring a separate cable subscription. That in itself is a landmark achievement but there's certainly more to it.
The obvious target audience are cord-cutters and "cord-nevers," a grouping that often includes millennials. That's certainly reflected in the over-the-top delivery method and to some degree, the core package channel lineup.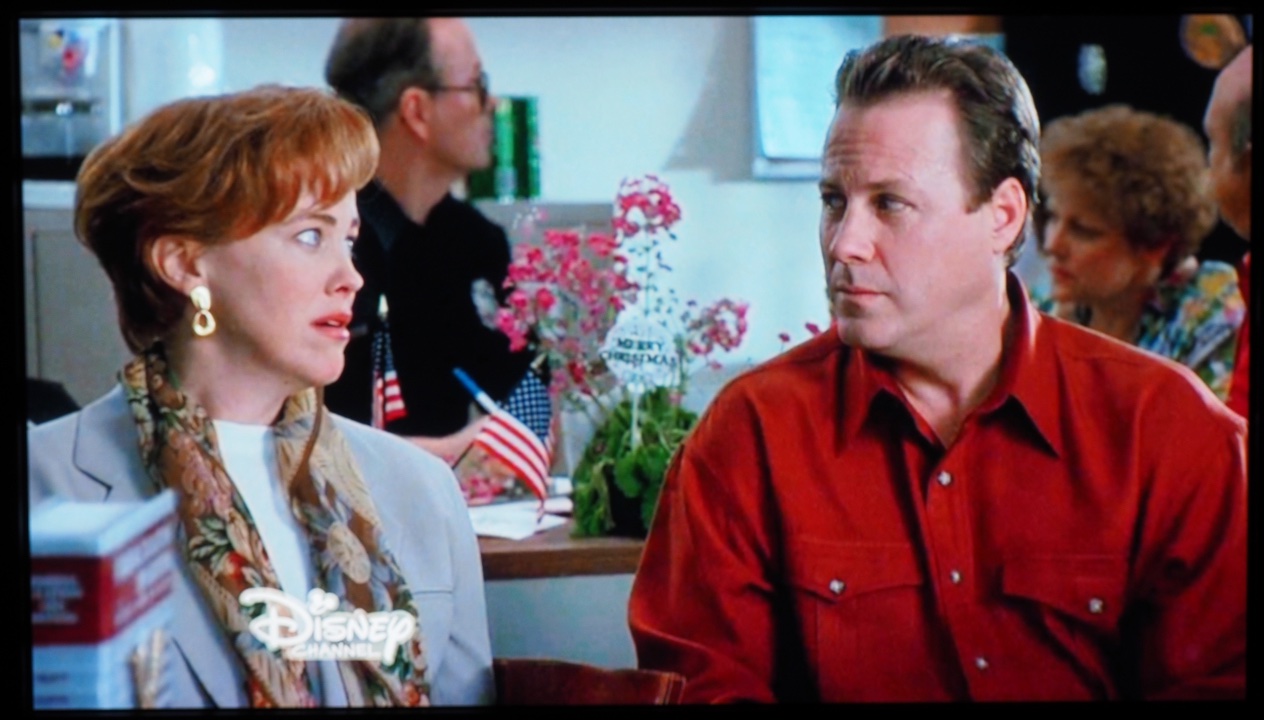 The 12 basic channels cover everything from sports and lifestyle to family and news networks for $20 per month with no contract or commitment. Sling TV's ace in the hole will be its add-on packages and ultimately, how they're handled and presented.
Some will certainly see the correlation between Sling TV's business model and that of traditional cable and satellite providers. For its part, Sling TV is steadfast in its belief that they aren't trying to replicate or replace the traditional pay-TV model.
As it turns out, both arguments are accurate to an extent.
Delivery method aside, Sling TV's business model is the same that we're used to: a core offering with add-on packages. What's appealing about it is the fact that we're slowly inching towards a la carte pricing.
Instead of paying an additional $20 to $40 for an extra 50 to 70 channels (most of which you'll never watch) simply to get a channel or two you really want, Sling TV offers highly-targeted add-ons at just $5 each. There aren't that many yet but that'll change over time. It's not quite a la carte, but it's getting closer.
As a new service, Sling TV has a ton of promise. Combine it with an antenna to pick up local channels as well as a Netflix and / or Hulu account and you have an attractive - and relatively cheap - alternative to traditional cable.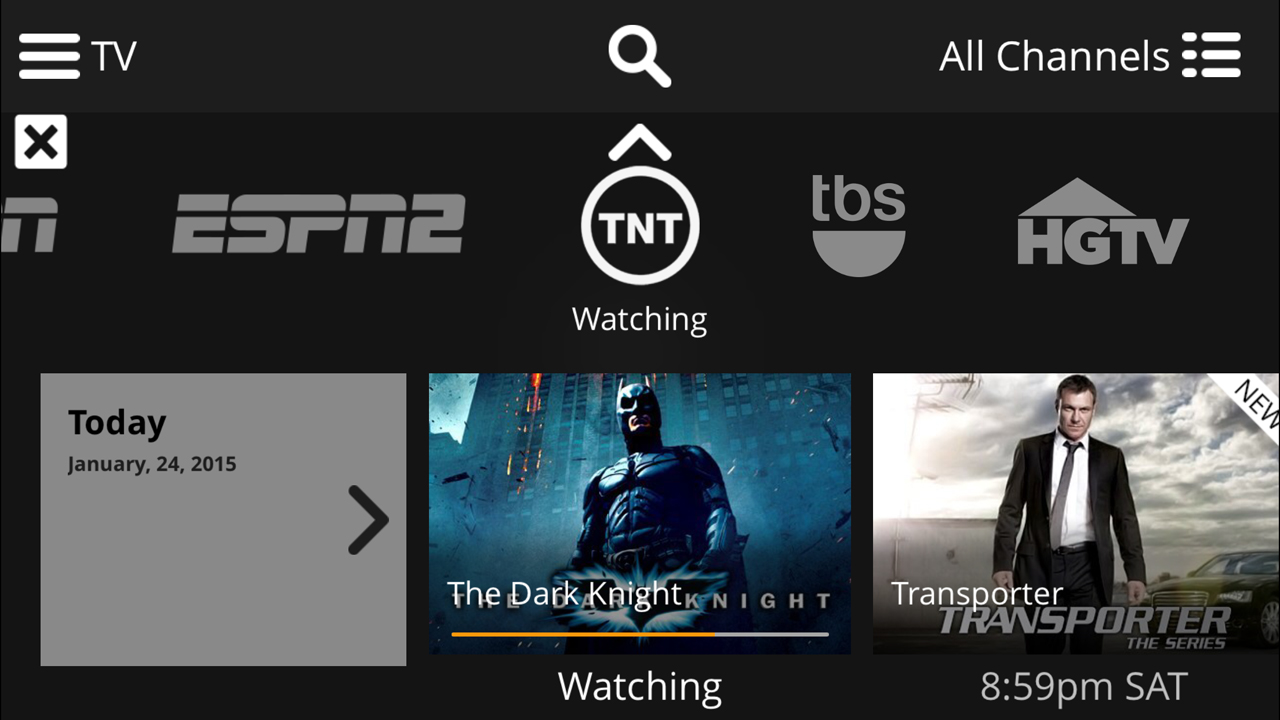 I personally believe its long-term success will hinge on the lineup of the upcoming Sports Extra add-on and addressing the single-stream limitation.
Even if you have zero interest in Sling TV, there's reason to applaud its arrival. If it can serve as a catalyst for change across the industry, we'll see similar offerings from the competition at which time the consumer will be the winner.