Watch: Tesla Model S caught on video going up in flames "out of the blue"
The company is investigating
By Rob Thubron 59 comments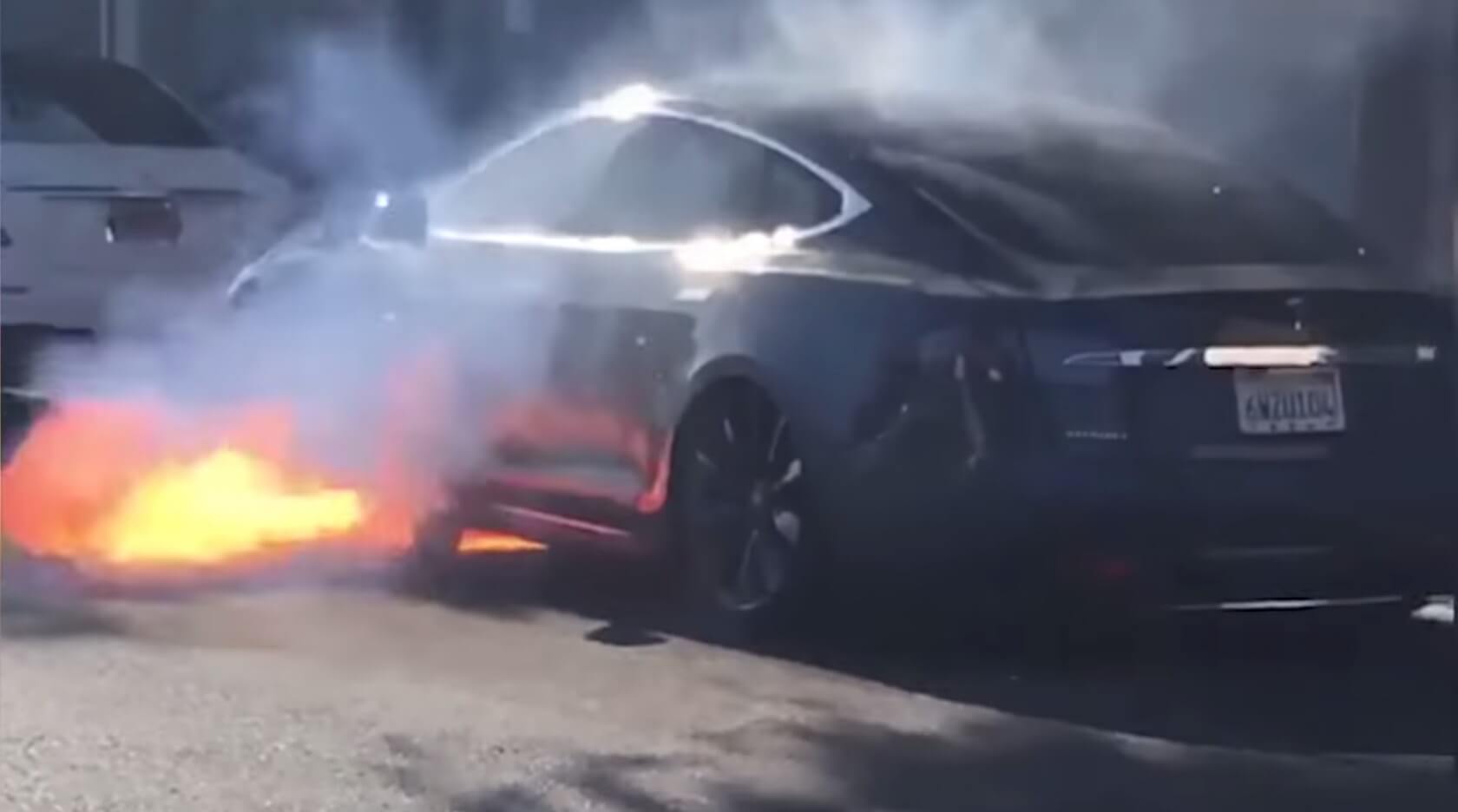 TechSpot is celebrating its 25th anniversary. TechSpot means tech analysis and advice
you can trust
.
What just happened? Tesla boss Elon Musk might be wishing for 2018 to hurry up and end, after the company was once again hit with some negative publicity. On this occasion, a Tesla Model S was caught on camera as it went up in flames on a California highway.
The vehicle belongs to British director Michael Morris, who directed NBC's The Slap and was behind the camera for several episodes of hit TV shows, including House of Cards, 13 Reasons Why, and Preacher. The incident was shared by his wife, actress Mary McCormack (Deep Impact, In Plain Sight), who posted it on Twitter.
Like any other vehicle, an EV could catch fire after a serious impact, but McCormack tweeted that this happened "out of the blue," and there was "no accident." She added that Morris was flagged down by a passing couple who noticed the flames and told him to pull over. "And thank god my three little girls weren't in the car with him," she said. McCormack added that the autopilot feature had not been engaged at the time and the car was a "normal Tesla."
@Tesla This is what happened to my husband and his car today. No accident,out of the blue, in traffic on Santa Monica Blvd. Thank you to the kind couple who flagged him down and told him to pull over. And thank god my three little girls weren't in the car with him pic.twitter.com/O4tPs5ftVo

--- Mary McCormack (@marycmccormack) 16 June 2018
Sheriff's Lieutenant William Nash said there were no injuries, adding that a log entry cited the possibility of a faulty battery.
There is speculation that the battery pack could have been punctured by an object hitting the underside of the car without the driver realizing. Back in 2014, Tesla offered Model S owners a new titanium/aluminum underbody plate to prevent battery punctures, following two fires that were caused by the plates being pierced. There has been at least one previous incident of a fire starting without any impact.
Tesla said it is investigating the incident. In a statement, the company called it "an extraordinarily unusual occurrence."
This year has seen Tesla deal with the crash that killed driver Walter Huang, who had his Model X in autopilot mode at the time, as well as production issues, NHTSA and NTSB investigations, lawsuits, and the (temporary) failure to receive Consumer Reports' recommendation.
Some positive pieces of recent Tesla news came in the form of praise for its Model 3's battery, and the announcement of August's Autopilot update that will begin to enable "full self-driving features."