The Apple Watch Ultra is a recreational scuba diver's wet dream
The Series 8 and SE editions are basically more of the same
By Cal Jeffrey 20 comments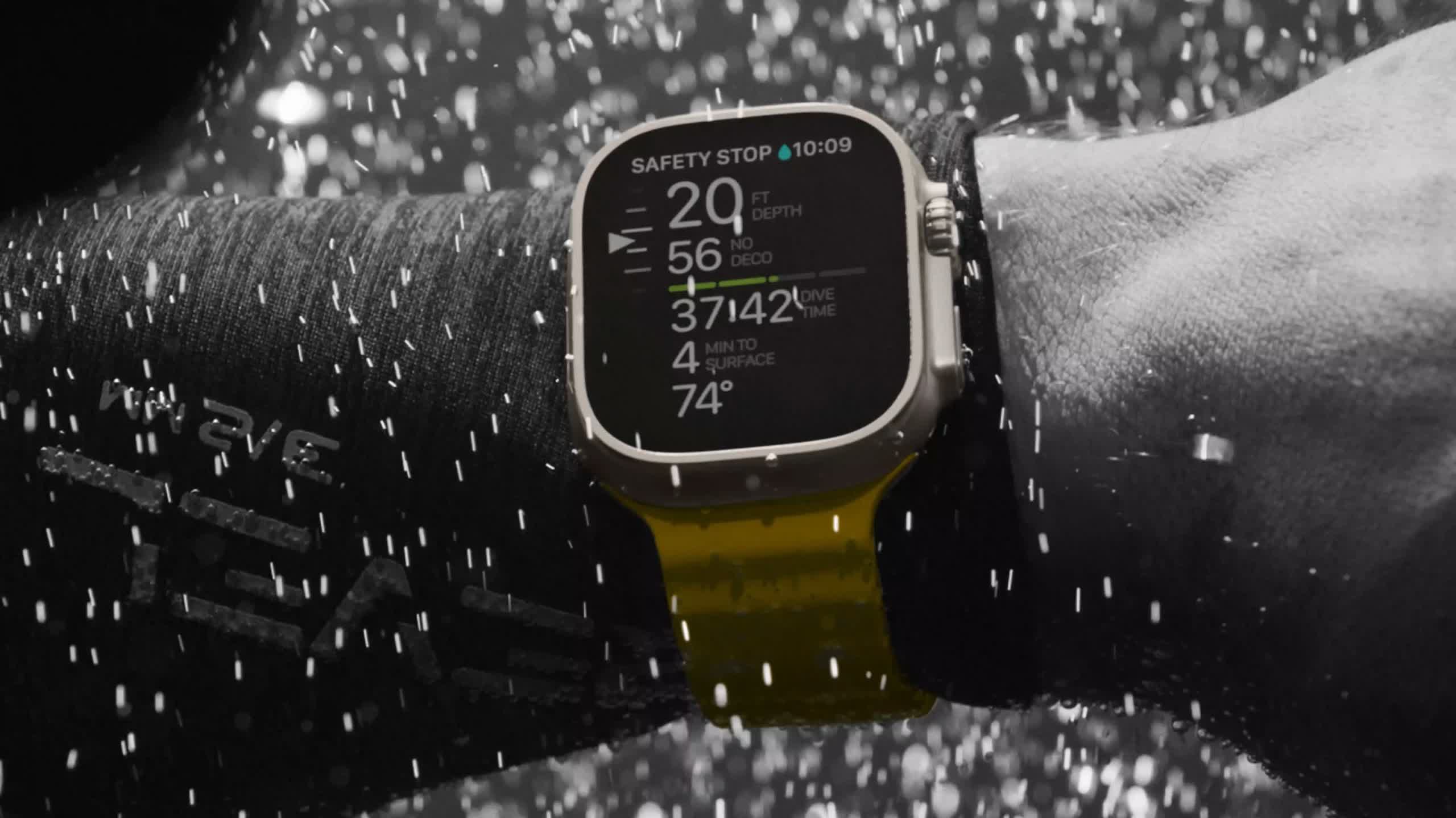 TechSpot is celebrating its 25th anniversary. TechSpot means tech analysis and advice
you can trust
.
In brief: There were plenty of rumors leading up to the announcement of the Apple Watch Series 8. The central theme of almost all of them was the Pro appendage to the name. Seemingly every bit of information leaked regarding Cupertino's newest wearable was specified as the "Apple Watch Pro," leading us to wonder; will there even be a standard Apple Watch this year?
Apple unveiled the Watch Series 8 at Wednesday's "Far Out" keynote. The good news is that there is a standard version. The more affordable SE model also makes a return this year. The bad news is that there was no Pro model to be seen. Well, that's because Apple decided to psych everybody out and call it Apple Watch Ultra.
The Apple Watch Series 8 is not a giant leap forward from the Series 7. The most noteworthy features are a couple of additional sensors for gauging body temperature and blood oxygen levels (SpO2). It also has an upgraded gyroscope and accelerometer that can detect severe car crashes and will automatically call first responders.
The screen is crack-resistant, and Apple says it increased the display size by reducing the bezels. So while the Series 8 has the same case size as last year, the screen is just a tad larger. Battery life on the Series 8 is about the same as last year's model (18 hours), but watchOS 9 will have a low-power mode for conserving it for up to 36 hours on a full charge. This feature nullifies most features that make the Series 8 different, like turning off the always-on screen and shutting down background apps.
As always, Apple has come up with fresh faces and complications to go with the newest Apple Watch, which launches on September 16. Preorders are available as of today, starting at $399 for the 41mm Wi-Fi-only model and $499 for Wi-Fi/Cellular. If you like the larger 45mm casing, bump those price points by $30.
The SE version of the Apple Watch is Cupertino's budget branding. It is essentially the same as the standard Series 8 but misses out on some of the key features. It is also one millimeter smaller than its counterparts (40mm and 44mm).
However, it does have the core features of Series 8, including its hardware. So compared to last year's model, the SE has a 30 percent larger screen (again, thanks to bezel reductions) and is 30 percent faster.
Preorders are available today, starting at $249 and $299 for Wi-Fi-only and GPS models, respectively. It's also the same $30 increase for the larger version.
The Apple Watch Ultra stole the show. Not only is it a complete redesign, but it also has features never before seen in the series.
The Ultra has the largest and most rugged casing of any Apple Watch. The titanium enclosure measures 49mm making it 4mm bigger than any watch the company has made. The extra real estate allows the Ultra to have up to eight complications compared to the three of previous models. Unlike the Series 8, the screen is completely flat, and the titanium housing is raised to enclose the sapphire edges to protect it from bumps.
Apple claims the Ultra has twice the battery life as the Series 8, so up to 36 hours under normal usage. The low-power mode coming to iOS 16 can extend the Ultra's battery life up to 60 hours on a full charge.
The Apple Watch Ultra is primarily designed for those with more active lifestyles and has features to accommodate. One example is the raised function button, which allows easier activation while wearing gloves. It has three microphones to pick up voices even in extremely windy conditions. It also has a secondary button on the opposite side that users can customize to perform various functions, like starting a workout with one press. It also comes in handy for activating processes underwater.
The main drawback of a waterproof device with a touchscreen is that it doesn't function well underwater. So that extra button should help swimmers and scuba divers while in the water. And speaking of diving...
The Apple Watch Ultra can function as a full-fledged dive computer. As a certified diver, I have been waiting for this for a long time. In fact, I remember buying my first Apple Watch and thinking, "Too bad there aren't sensors and apps for planning dives."
Well, here we are eight years later. The Ultra has depth and water temperature sensors. The watch has most of the functions you'd find on an expensive dive computer and is controlled via the textured redesigned crown dial and that secondary button we mentioned. When paired with Apple's new Oceanic+ app, recreational divers can enjoy planning their divers on their phone while using their Apple Watch as a diver computer. It will even alert users to start and stop decompression breaks when surfacing.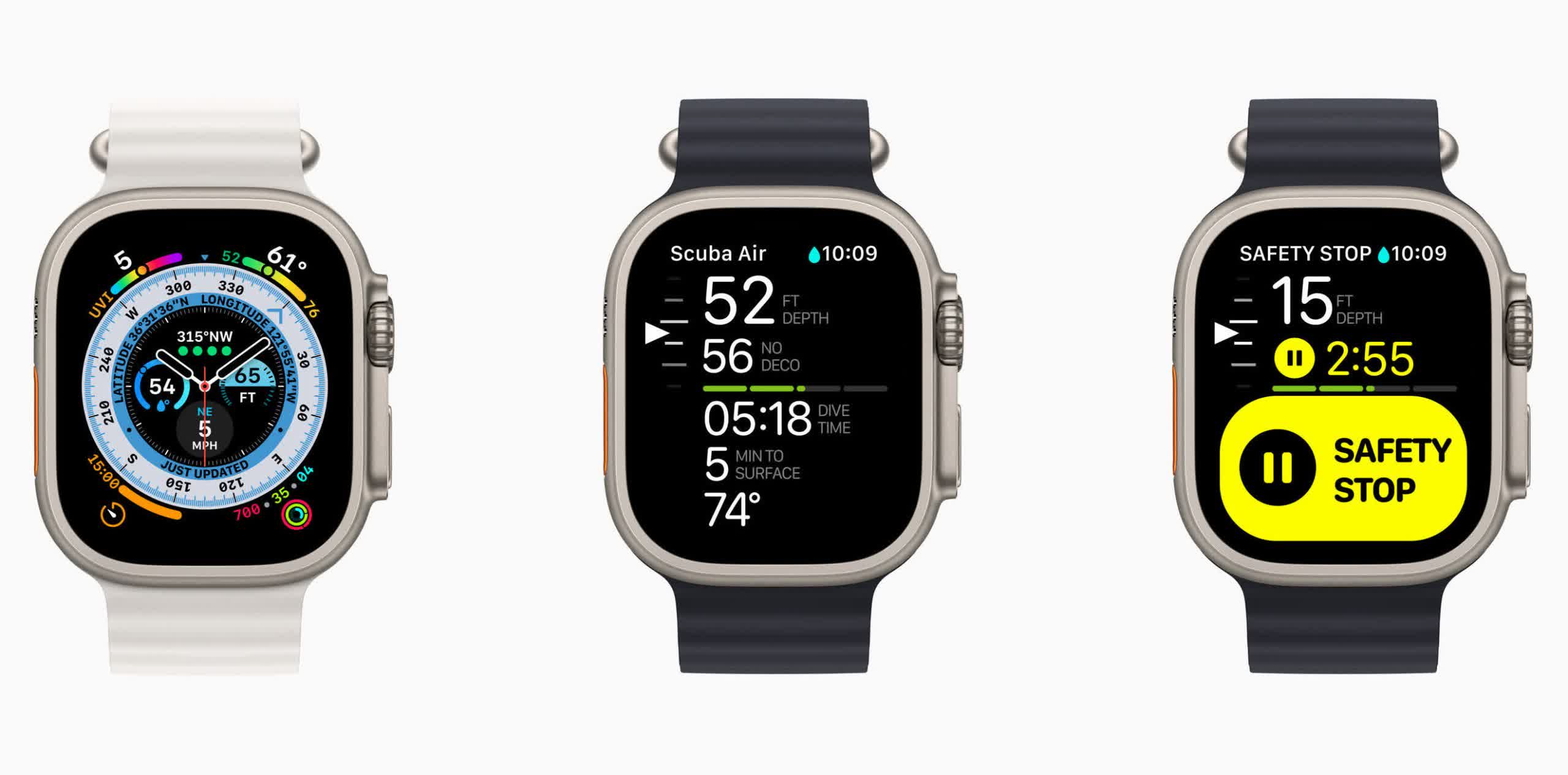 The one caveat is that it is only rated WP100, which is double the IPX7 rating of the Apple Watch 8 --so it's certified up to 100 meters of water pressure. However, these ratings are somewhat deceiving. The numbers of a WP rating refer to the amount of water pressure the case can withstand, not the depth to which it can actually be worn. Generally speaking, a WP100 rating is ideal for snorkeling, and WP200 is recommended for scuba.
That said, the Ultra should be suitable for prolonged submersion of up to 50 meters, and Apple errs on the side of caution, saying it's fit for "recreational scuba diving to 40 meters." If you go deeper than that, you'd be better shell out for a dedicated dive computer.
Still, if you do much shallow rec-diving, $799 is an excellent price for a GPS/Cellular watch that doubles as a dive computer that does everything my $1,200 Garmin Descent Mk2 does. You can preorder one now or pick one up when the Ultra launches on September 23.